Why does the type of 365 licensing matter?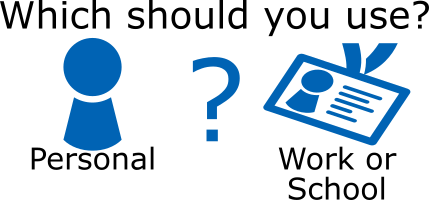 In our last article we talked about the history of the different account types. So, how much does this matter in a practical sense?
It's tempting to use a home licence for your business needs; it's cheaper and business owners often already have a home licence that can be shared with up to five employees. However, since the software was not designed for business use, employees are likely to run into issues. What can go wrong if using 365 Home for business purposes?
If you're using a home account in a company, with a business owner and employees, every employee that logs on can see everything the director's level of access grants. After all, as far as the computer knows, it IS the director logging in. That's where security issues around sharing passwords rather than having individual ones arise.
Of course, if you need to repeat a forgotten password to a colleague on the other side of the office, a visitor waiting out in the corridor could potentially overhear it, which is a possible security breach that Microsoft deems unacceptable and that's why they don't recommend doing it this way. In some companies, workers write down passwords to share them, but it certainly isn't the safest or most efficient way to operate, even with a security door limiting access to the office.
A Home subscription is tied to the account holder, rather than the business itself. If the business goes under, that person is still liable for the subscription payments. If the account holder retires or leaves the company, the business can find they are no longer licensed – and Microsoft disables use without licences. The Business subscription is owned by the company, so it avoids this unwanted liability and reliance on a single person for maintaining access.
So how does using 365 Business help fix this?
The major benefit to using 365 Business is that the accounts and licensing are now controlled by and belong to the company. This makes it easy to add and remove users whenever employees leave or join. Individual users can then be configured to have the access levels they need, while confidential information can be kept secure and only accessible to people who need it.
Features gained by using Business:
SharePoint: Company-wide storage (Policies, Templates, Finished work and Co-op work)
OneDrive: Individual storage for each user (Drafts, Individual work)
Exchange: Mailboxes for each user; Group mailboxes
Azure: Consistent configuration, access, and desktop across multiple workstations via individual passwords
Individual Edge/web browser password lists
Overall:

Flexibility and Expandability; quickly add or remove accounts
Automatic backup and rollback of Cloud stored files
No need for USB drives or Network Attached Storage solutions.
No need for a dedicated server computer in the office.
Here at Solidarity IT, we are a single household home business and we changed over from having a Home and Student licence under Andy's name before we started the business to buying the business subscription for the limited company. We've gone through that journey ourselves as well as helping other companies make the transition, which has no direct upgrade path because it wasn't something Microsoft anticipated being necessary.
If you need help switching from 365 Home to 365 Business, just get in touch and we'll help you along the journey and make sure you get the best possible value from the improvements and extra features.